Marriages In The Northern Ghana...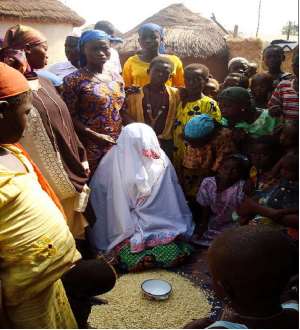 This isn't history because it is not long ago, just yesterday and I heard and witnessed marriages to be the simplest social institution in northern Ghana. In northern Ghana, marriage ceremonies among most ethnics groups in Northern Ghana were almost the same, where it starts from gifting lady items, such as comb, calabash, handkerchief or yam from the Gonjas. It's in the Northern Ghana that men without money can marry a lady of their choice, where parents are willing to give out their daughter's hand in marriage without considering the financial status of their in-laws because they are willing to help the couples in times of difficulties.
In Northern Ghana, cola nuts were presented as pride price and yet, such marriages were long lasting, happier with more blessings, because it was kept simple from the foundation. Today, however, trust me, marriages in the north are among the most extravagant spending institution in |Ghana, couples have experienced divorce, children in broken homes are usually as a result of expectations and demands that are not being met after marriage. Worst of it all is adultery, havoc in our society today, married women sleep outside, to gain some benefits not being provided by her husbands. Young married men involve themselves in the trap of "sugar mumies" usually as a result of the lack of respect for them and their wives. Today, in our societies, a very big social problem that is not given attention to by the media, come to think of it, if our grandmothers are still in the homes our grandfathers, what did they do special that we are not doing these days that marriages don't last. Many factors I guess, and I strongly believe, the cost involves in marriages is a factor among the many.
Our marriages today have been divided into two, the traditional wedding and innovative wedding as I call it. The young man can no longer marry because marriage has become the most expensive commodity in northern Ghana, now only a traditional wedding is actually considered as marriage except the white mans wedding is added ballooning the cost of marriage, but that is okay I guess, just because some few rich young men or rich men sons can afford, how discriminatory.
Gone are the days, where marriage was advised to young men who woo and chase, due to high cost in chasing, today is just seem the opposite, and it is funny how a motorcycle has become a prerequisite of marriage and renting of hotels for such purpose is now becoming an accepted norm in the North. But what never seized to amaze me is how the Northerners have abandoned their marriage rites while embracing other marriage rites such as the Nigerians weddings, just because we watch their movies. Must we apply Nigeria traditions and other foreign traditions into marriage ceremonies? In fact, our part of Ghana have become so vulnerable, we blindly follow things that have no benefits for us. This among others is what is killing our society, where anything typical of the north is now archaic. Please, my dear fathers and mothers I personally think this problem of high cost in marriage is making our young ladies fall into the wrong hands, It amazing to know that ladies has different prices just like different products in the market, sad thing for a man to admit but it is the truth.....
Suntaa Abudu Ibrahim
UDS Nyankpala campus SCC
--
Gwokto La'Kitgum
----------------------------------------------------------------
"Even a small dog can piss on a tall building" Jim Hightower
--
Disclaimer:Everyone posting to this Forum bears the sole responsibility for any legal consequences of his or her postings, and hence statements and facts must be presented responsibly. Your continued membership signifies that you agree to this disclaimer and pledge to abide by our Rules and Guidelines.To unsubscribe from this group, send email to: ugandans-at-heart+unsubscribe@googlegroups.com